Industry based solutions
There are millions of solutions in IT and not all of them are compatible with every industry. TNIT is focused on customized solutions for many of the leading industries of the UAE. For example, Medical, Hospitality, Education, Aviation, Logistics etc.
Get free consultation
TNIT, Leading Call Center Solutions Provider in Dubai, UAE
We are one of the leading call center solutions or contact center solutions providers in Dubai, UAE. We do customer requirement analysis, project consulting, solutions live demonstrations & Proof of concepts, solutions evaluations & comparisons, project implementations, post implementation support during the fine tuning period, Preventive maintenance support, Incident based support, comprehensive & non comprehensive maintenance contract etc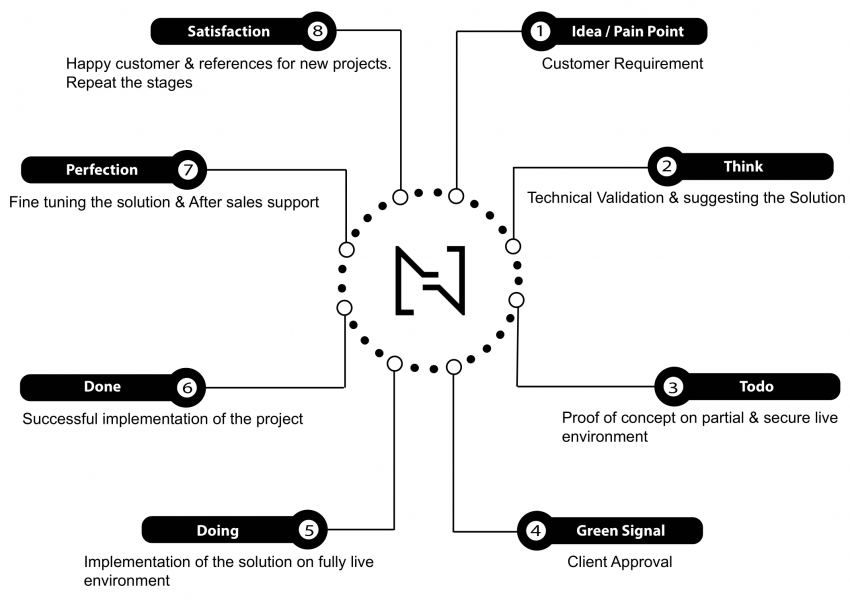 What's it?
A call center solution is frequently a turnkey product, such as an outsourced call center, or a complete bundle, such as unified communications. Call center solutions or Contact center solutions provide a contact center management platform that helps to engage with customers via voice, chat, email, SMS, fax and socials in a unified platform. These solutions provide much more features with live reporting systems. Some of the features are as follows:
Live administrator and supervisor call center status panel.
Area code breakdowns inclusive of calling and waiting time.
Agent billable and payable time with total sales, contacts and conversion statistics.
Live agent page with queue statistics and agent controls.
Total unanswered calls with disconnection time and position.
Complete call distribution statistics, including sales and contacts, by week, day or hour.
Administrator message broadcasting and SMS functionality.
Full agent availability with session and pauses details and history.
Inbound ACD call attempts with metrics available by operator, terminal and queue.
Detailed call information including the Asterisk Call ID and recorded call.
Total of answered calls including call length and waiting time metrics.
Inclusive SLA of answered and unanswered calls and disconnection causes.
Benefits:
A proper Call center solution or contact center solution takes a company to the next level in terms of customer satisfaction. Enhanced customer relations, access to data, data recording, measuring performance, long term strategy development, multi-channel resolution and enhanced team collaboration.
What if not using it?
Wrong performance indicators, low customer satisfaction rates, an overabundance of tools and technology, poor business productivity, and high operational costs.
What do we do?
The Node Information Technology LLC is the leading call center solutions provider in Dubai, UAE. We have our in-house certified team to support you on any call center or contact center solutions requirements. We are well capable of transforming your customer relationship platform to completely digital. You will be able to track, manage, and route phone calls to your customers to effectively engage them, cut expenses, and enforce severe security procedures such as password protection, user access controls, and data encryption. All the call records & reports will be available on live. You will be able to see the customer support team's performance which will definitely lead you to tremendous growth in customer satisfaction.
What's it?
Classroom solutions are technology-enhanced applications that integrate learning technology such as computers, specialized software, audience response technology, assistive listening devices, networking, and audio/visual capabilities to encourage chances for teaching and learning. Students & their parents will be able to get complete class recording along with live voice & digital boards data including the notes & annotations made by the trainer during the training session.
Benefits:
Creates a more engaging environment, incorporates different learning styles, ease of access to information, better learning techniques and better communication channels.
What if not using it?
Students may not have enough time to accomplish the program's objectives if there isn't adequate technology, and valuable class time will be lost.
What do we do?
We provide complete solutions to upgrade your traditional classroom to a high tech classroom with all the leading technologies. We are here to support you on machines for teaching, video-projection, interactive displays, student workstations, video conferencing, security policy installation and management, effective administration, learning materials, and instruction.
What's it?
Involves the application of technology created to enhance any aspect of the healthcare system. To combat quality and efficiency, tech-infused technologies are being integrated into every step of the medical process.
Benefits:
Improved patient care and efficiency, ease of access to medical devices, virtual reality, and transformation of workflow and world class outcomes.
What if not using it?
Traditional patient care, lack of data requirements for emergency situations. Down time can be expected at any point of time.
What do we do?
Our services interconnect patients, workers, and gadgets while adhering to privacy requirements. We act as a link between your on-premises IT systems and cloud-based digital operations. We assure there is no downtime on the IT infrastructure & make sure you are technically leading by making proper use of the latest technologies.
What's it?
Warehouse solutions are applications & equipment that are used to optimize activity flow within a warehouse or distribution center.
Benefits:
Better Labor productivity, inventory visibility, traceable commodities, lower operational costs, and ERP integration.
What if not using it?
Process redundancy, inadequate facility layout, seasonal demand, high labor costs, and inaccurate inventory information are all factors to consider.
What do we do?
Our warehouse solutions provide complete visibility into a company's inventory and manage supply chain fulfillment activities from the distribution center to the retail shelf, as well as automated order fulfillment and inventory management.
What's it?
Commercial facilities require IT systems that can survive dust, wetness, and electrostatic discharge, as well as other environmental and manufacturing variables. This progress is made possible by industrial-grade solutions.
Benefits:
High resistance to temperature and weather conditions for optimal performance and connectivity in hazardous situations.
What do we do?
We provide a large collection of rugged IT infrastructure solutions for industrial applications, and also of other solutions for operations offices and edge network infrastructure. Rugged series switches, cables and connections, racks and cooling, industrial audio and video components, and more are among the materials included.
What's it?
More than a functional laptop is required for work from home productivity. Employees must have secure access to cloud applications to fully utilize the collaboration tools at their disposal, and networks must have sufficient bandwidth and secure endpoints to allow workers to access their files and applications from anywhere.
Benefits:
Seamless and safe digital workplaces for employees across sites, maximize productivity and organizational resilience by enabling secure workplace flexibility and agility.
What if not using it?
Work interruption, business resiliency without security & control.
What do we do?
We offer digital workplace solutions that allow individuals to learn and work from any location while maintaining a secure infrastructure. Our IT solutions can assist you in keeping track of personnel to promote a healthy work-life balance and smooth execution.